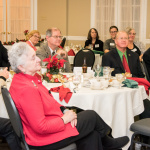 DPA Holiday Luncheon
Delaware Press Association will hold its holiday luncheon on Saturday, December 9, 2017, at the Ed Oliver Golf Club, 800 N. Dupont Road, Wilmington, Delaware. The annual event begins at 11:30 a.m. with a social hour, cash bar and music, "Sounds of the Season," by Pam Finkelman on piano and Gretchen Cox on flute. This will be followed by lunch, the featured speaker, and the presentation of the 2018 Communicator of Achievement Award. The event, which is open to the public, will include a book signing and sale by DPA members.
Featured Speaker David Weigel
Washington Post reporter David Weigel will speak about "Covering the news when one voice drowns out almost everything else." A native Delawarean, Weigel attended the Medill School of Journalism at Northwestern University, and has written for Politico, Foreign Policy, The American Conservative, GQ, and Rolling Stone, among other publications.
Communicator of Achievement Presentation
The Communicator of Achievement (COA) Award is the highest honor DPA bestows on its members. First and foremost, the COA Award is given for a lifetime of achievement in the communications profession. And second, it recognizes exemplary service to the community and to humanity as well as to the profession, especially to Delaware Press Association and the National Federation of Press Women.
Schedule
11:30 a.m.  –  Social Hour with Cash Bar
Book signing with DPA Authors, Editors, and Photographers
Music: "Sounds of the Season" by Pam Finkelman on piano and Gretchen Cox on flute
12: 30 p.m.  –  Lunch and Speaker 
Presentation of 2018 Communicator of Achievement
Menu
Mixed Greens with Scarlet-orange Dressing
Chicken Florentine   •   Green Beans Almondine   •   Roasted Red Potatoes
Coffee or Tea   •   Carrot Cake
Please sign up no later than Monday, December 4.
Cost: $35  DPA Members and Guests
–    Make Holiday Luncheon Reservations –
For more information: DelawarePress@aol.com.