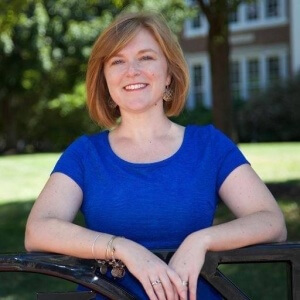 Katy O'Connell has her hands full. As the director of the Environmental Public Education Office for the University of Delaware's College of Earth, Ocean, and Environment (CEOE) and the Delaware Sea Grant College Program, she leads public relations, communications, and outreach efforts. O'Connell's expertise in media relations, community outreach, social media, marketing, environmental education, strategic communications, and multimedia shone when her team garnered several awards in various categories from the 2015 National Federation of Press Women (NFPW) Communications Contest after placing first in the 2015 Delaware Press Association (DPA) Communications Contest.
First-place national honors went to the Natural Hazard and Climate Change Adaptation Tool Kit for Delaware Communities (catalog, manual, or handbook) and the UDaily [University of Delaware online service] article "University of Delaware World War II Underwater Discoveries" (news or feature releases/single release).
O'Connell's team also racked up third-place national honors for a series of UDaily articles about CEOE electronic vehicle innovations (news or feature releases/multiple releases) as well as media kits and tools to gain media coverage for CEOE wind energy innovations. World of Thanks video earned an honorable mention (video/website category).
At the DPA awards last May, the Coast Day public service campaign (public service campaign) focusing on weather and climate took second-place honors. O'Connell and her colleagues captured an honorable mention for the 2014 Delaware Sea Grant Reporter (reports).
DPA recently caught up with O'Connell to get her take on team building, media, and life.
What's the secret to leading a creative team? 
When we think about public relations, we think about what we can do for our organization to build trust with our external audiences, but we have to look internally too. You have to trust the talents of your team and foster an environment where people feel empowered to speak up and share open, honest, constructive feedback.  Encourage collaborations, ask questions, and know that we all have unavoidable external conditions that affect our work lives.  
What do you think is the most challenging learning curve in media today? 
There are so many tools available for creating, cultivating content, and managing content.  Being able to learn new methods and tools while still maintaining consistency, and not becoming overwhelmed is a challenge. The key is to be open to new things, but know when it's ok to maintain status quo.   
When you're not chasing a great story, what's your favorite activity? 
I'm a proud mom and wife, and I love using my down time to go camping with my family. Drinking a locally produced craft beverage while sitting around a campfire is my way to un-plug. 
What is your favorite read in the past year and why?
I rarely find the time to sit down and really read a good paper book; I use Flipboard on my iPad on a daily basis for news and personal interest reading (food, travel, science, tech, etc.). Recently, my favorite book has been Spillover: Animal Infections and the Next Human Pandemic by David Quammen. I had the chance to meet David at a science communication conference a few years ago, and his style of science reporting blended with personal experiences kept me turning pages throughout the nonfiction work.  
Inspired? Click on the Contests & Awards tab to learn more about the annual DPA Communications Contest. First-place winners who are members of NFPW may enter the national competition.