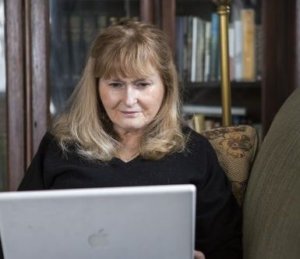 National Federation of Press Women, Inc.
FOR IMMEDIATE RELEASE
Contact: Loretta Hall, loretta@authorhall.com, 505-239-1539
Billie Travalini named National Communicator of Achievement
Sept. 7, 2018 – Billie Travalini of Wilmington, Del., has received the 2018 Communicator of Achievement Award from the National Federation of Press Women (NFPW). This prestigious award has been given for 61 years.
She received the award during the organization's annual conference, held this year in Bethlehem, Pa. Now in its 81st year, NFPW is a nationwide organization of professional women and men pursuing careers across the communications spectrum.
The Communicator of Achievement award is the highest honor bestowed by NFPW upon those members who have distinguished themselves within and beyond their field. The recipient, chosen from nominees selected by state affiliates from around the country, is recognized for exceptional achievement in the communications field, as well as service to NFPW and to the community.
Travalini, Vice President, Programs for Delaware Press Association, is an adjunct professor of English and Creative Writing at Wilmington University in New Castle, Del. She also tutors undergraduate and graduate students at WilmU. She previously taught English at Temple University and taught both English and Ancient and Modern Literature at Lincoln University.
The abuse Billie experienced while she was growing up has directed the course of her communications career. When teaching at facilities such as the Boys and Girls Clubs of Delaware and state detention centers, she focused on helping students understand the power of voice. Her professional goal remains constant: to speak out for those left out of the conversation.
Her memoir, Blood Sisters, winner of the Lewes – Clark Discovery Prize, carries the message of never giving up hope, no matter what happens.
In addition to professional achievement, the Communicator of Achievement Award recognizes service to the community and to the National Federation of Press Women. Travalini received the Delaware Governor's Award for the Arts, Education and also was named an Outstanding
Volunteer of the Year for her work with Delaware's youth. One example of her efforts is her current project of building a respite/peer training center at Fort DuPont for young people with autism. Her goal is to turn a site that once provided inappropriate housing to needy children into a site where young lives are nurtured and celebrated.
She has served as an officer in the Delaware Press Association and has won multiple awards in both the DPA and the NFPW Communications Contests.
Runner-up in the Communicator of Achievement competition was Michelle A. Carter of Belmont, Calif., an active member of California Press Women. A lifelong journalist and current magazine editor, she is the author of three nonfiction books.
# # #