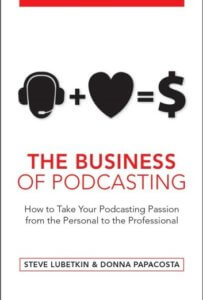 How do you meet the challenge of switching careers when you've been on the same track for decades?
Do you worry about how you would survive if you were suddenly downsized out of a job?
What would you do if you found yourself navigating treacherous waters and had to reinvent yourself, not just once, but twice?
Nationally published writer and photojournalist Steve Lubetkin will tell his story of Boomer Reinvention — how he made the journey from print and broadcast news into PR and out again, not only reinventing himself as one of the first professional podcasters but also expanding a new-found business into a company that serves clients with news and feature content in audio, video, and with other multimedia content.  
"Boomer Reinvention:
From Press to PR to Podcasting"
Wednesday, March 29, 2017
The Ballou Room
Kid Shelleen's Restaurant
1801 W. 14th Street
Wilmington, DE
6 p.m. – Fun Food / Cash Bar / Networking
7 p.m. – Program
Open to the Public
Steve Lubetkin
Seasoned technology futurist and managing partner of The Lubetkin Media Companies, Steve Lubetkin is an award-winning producer of documentary-style radio, TV, and other multimedia content distributed over the Internet as podcasts. Lubetkin is a nationally published writer and photojournalist and co-author of the book, The Business of Podcasting: How to Take Your Podcasting Passion from the Personal to the Professional.
Please join us!
If you find yourself longing (or needing) to make a change but don't know where or how to begin, come to Kid Shelleen's on March 29, to enjoy great networking and fun food at 6 p.m.  At 7 p.m., treat yourself to a talk by DPA member Steve Lubetkin, a man who has blazed a trail from one job to another to yet another and is passionate about what he does now.
Cost: DPA Members, $15. Non-members, $20.
Reservations: Please register no later than March 24. Guests are welcome.
Directions to Kid Shelleen's, 1801, W. 14th Street, Wilmington:
From Pennsylvania Avenue (Rte. 52) heading south into Wilmington, turn left onto Union Street (if heading north out of the city, turn right onto Union). Go half a block and turn right onto Liberia Street (if you reach the stop sign at 14th Street, you've gone too far). Liberia Street will take you straight into the parking lot. If it's full, you will find free parking on adjacent streets.
For more information: 302-655-2175 or DelawarePress@aol.com.